#arkitaipmuse Kirthanaa Naidu
This month, we sat down with tables stylist and food expert Kirthanaa Naidu to talk about the art of tablescaping.
Can you give us a little intro to your universe?
I'm Kirthanaa and live in London. For my day job, I work in Amnesty International's digital team. On a freelance basis, I'm a table stylist and create table settings for clients and also for fun at home. On top of that, I do recipe development and love hosting supper clubs.
Where do you call home?
I'm based in London but grew up in Malaysia where my parents still live to this day. Together with my siblings, I came to the UK when I was around 12 years old to go to school here. I guess, all the things I do, from cooking and baking to tablescaping, are a combination of my Malaysian upbringing and parts of the UK drawn into it which is a big part of my identity.
How did you get into cooking, baking and tablescaping?
Cooking and baking have always been my passion. I started at the age of 12 or even younger: on weekends, I loved helping my mum in the kitchen. I would do the food shopping - my family always used to joke that I could spend a whole day in the supermarket without getting bored - to then make some small bits for my parents. 
During the first lockdown, I was put on furlough so suddenly I had much more free time. I was cooking a lot and that led to me setting tables which I hadn't really done much of previously. I'd make some food and base my table on it. Not in the sense that my tables were themed but the references were more subtle - whether it was a certain feeling that inspired me or other bits that reminded me of a country that I visited or would love to travel to. For example, for a Greek table, I'd base it on something simple like blues and whites, whereas for a Mexican one, it'd make it super colourful.
What's your secret to setting a great table? 
To not overthink it - I don't ever overplan any of my tables but just go with how I feel that day. And there are four litte secrets to a great table:
Candles: they instantly add that bit of ambience to your table setting. 
Flowers: I love using flowers as they can really change up your table - even if you're using the same linens and tableware all the time. I love using seasonal flowers that I get a delivery of once every two weeks. 
Linens: you don't have to buy new linens all the time but investing in one or two nice sets will instantly make your table look nice. And I always recommend to look out for some nice fabrics that you can easily turn into a tablecloth - you can hem them yourself with some hem tape. 
Vases: often they don't cost a lot of money and it's an easy way of adding colour and height to your table. If you're just starting out and don't want to spend a of money, then you can just use jam jars. I love using different heights as it adds a sense of drama to your table. If you don't want to use vases you can also use a flower frog for some nice, more natural flower arrangements.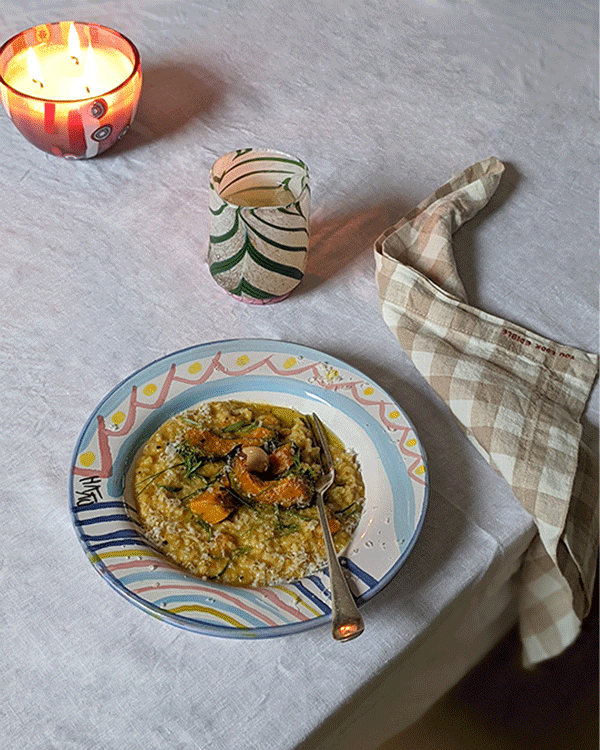 A warming plate of Delica pumpkin risotto with fennel, rosemary and confit garlic. Paired with our set of Gingham Gratitude Napkins
Do you have a favourite recipe you'd like to share with us?  
Tofu Pad Kra Pao Recipe. This is a staple dish in my home!

Ingredients:
- 1 x 450g extra firm tofu
- 1 packet fine green beans, cut into 1cm pieces
- 2 red chillis, diced
- 6 garlic cloves, minced
- 5 shallots, finely sliced
- 2 tbsp oyster sauce
- 1 tbsp light soy sauce
- 2 tbsp dark soy sauce
- 2 tbsp fish sauce
- 10g thai basil
- Vegetable oil
Method:
1. Crumble the tofu
2. Heat up 3 tablespoons of vegetable oil, then sauté the shallots, chilli and garlic for a few minutes until softened.
3. Add the green beans, tofu and sauces. Stir fry for 5 mins then turn the heat off and stir in the Thai basil.
4. Serve with jasmine rice and a crispy fried egg!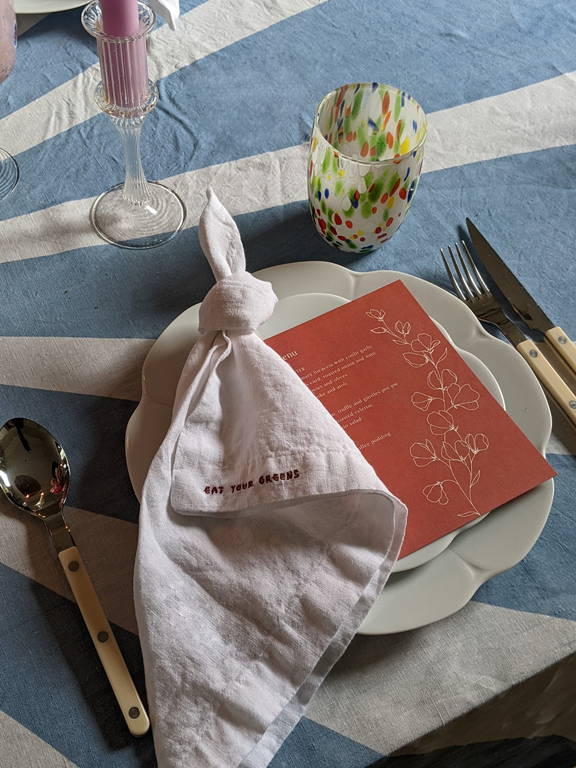 Kirthanaa's table setting for a special dinner party, which she styled with our White Gratitude Napkins 
Is there one cookbook that you think everyone should own?
I own too many cookbooks, it's hard to choose just one! I'd say Ravneet Gill's The Pastry Chef's Guide for anything sweet. It's a trusty handbook if you'd like to get into baking.  And for savoury Ixta Belfrage's Mezcla - I want to cook so many dishes from this book.
Treating people to a good time and meal is your expertise - what's your secret to hosting?
Most importantly, everyone should add their own flair to hosting. Personally, I love to collect digestives of each country I've been to: limoncello from Italy, mezcal from Mexico, gin from Menorca… so after we had delicious food - and deserts! - I usually serve my guests a shot in little glasses which I also collect.
What are you making for dinner tonight? 
As it's November and we are very much deep in pumpkin season, I'm making a heartwarming delica pumpkin risotto with fennel, rosemary and confit garlic. It's so warming and perfect for a rainy evening in.
How important is sustainability to you? What drives you to live a sustainable life?
It's so important! The climate crisis is definitely here as we saw last summer - which is quite scary. We are having the right discussions, however, nothing is being done top-down. There are people like us that are trying to be more conscious in terms of the way we shop, eat and do things but equally that's not enough. Personally I stopped buying clothing from fast fashion brands which is quite a privileged approach as not everyone is able to make that decision. But if you can, it's a good approach. I safe and buy better quality clothing from brands that are conscious of their impact.
What's your go-to timeless outfit?
I love linen, a simple linen dress or a simple pair of linen trousers paired with a nice top would be my timeless go-to as I feel like linen will never go out of fashion. And it's just so nice that it gets softer with time!
Lastly, what are your three favourite arkitaip-pieces? 
There are so many good bits so it's hard to choose. I love the Gertrude Maxi Dress - something that you can wear all-year-round - for example, in Winter I'd pair it with some nice boots and a cardigan. Then the Carla Puffed Sleeves Blouse which I'd style with a skirt. And I love the Elba Cropped Denim Jacket which I'd layer over the Gertrude Dress.