In conversation with Milou Neelen
In our new series, we'd like to introduce you to the inspiring women that surround us. Each month, we'll take you on a trip into one of our muse's universe. Please welcome our first guest: Milou Neelen from Hôtel Magique.
Interviewed by arkitaip co-founder Lea Wieser

Milou and I 'met' about one year ago: I contacted her via email after I stumbled upon her beautiful art in a pop-up in East London. What I loved about her work was the nostalgic aesthetic and the complex simplicity that I also saw represented in arkitaip. So I decided to get in touch. A couple of months later, Milou and I found ourselves not only knee-deep in a pandemic but also successfully launching the second edition of a very magique collaboration ...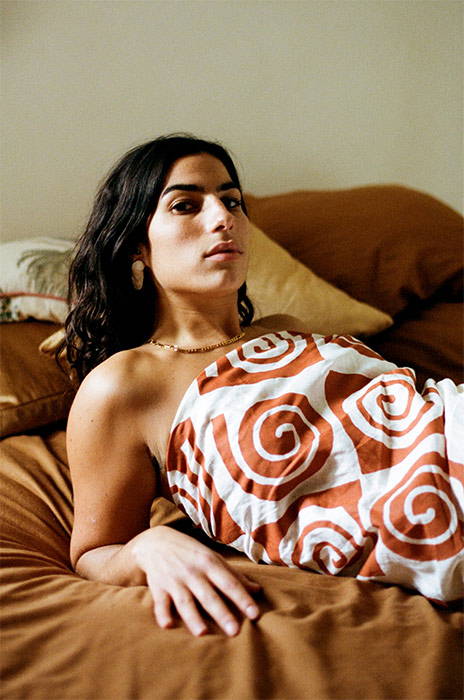 Lea: Can you give us a little intro into your universe? 
Milou: I started out as a freelancer where I worked on a variety of projects: from designing patterns for fashion brands and graphic design to illustrating for fashion magazines. During a trip to Portland, I stumbled upon this beautiful, golden Japanese Momi paper. I brought it back home and used it as a canvas for a painting for my living room. My idea was to give it a hotel-vibe, so I started combining random words with the word 'hotel' - and 'Hôtel Magique' won. 
Lea Wieser: Do you know what's funny? I feel like I've known you forever, although we've never met in person! 
Milou Neelen: Haha same! I can't believe that it's already been more than a year since we first spoke - and it was chill since the very first minute. Every time I hang up the phone, I go back to my desk with tons of fresh ideas ... you're mega hands-on and think in opportunities which I find super inspiring, so I'm very happy and grateful that our paths 'crossed'! What I love most is that we can create magique together even though we live on different continents.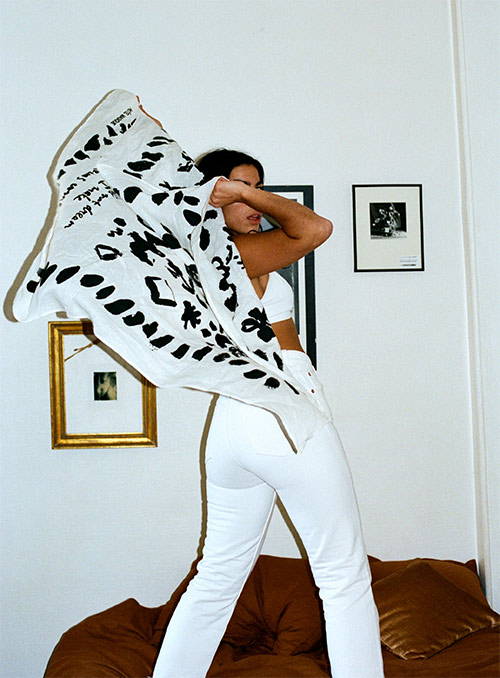 Whilst creating this painting, magique quotes came to my mind, such as 'You are Magique' or 'Endless Magique' - and I started to incorporate these quotes into my artworks. Because I could imagine them work well as greeting cards and art prints too, I created some trial prints. 
When I found the perfect paper and printer to partner with, the idea to launch these pieces under the brand name 'Hôtel Magique' became less scary ... I never gave myself a deadline and had no expectations - my motto was 'go with the flow and just have fun with whatever happens'. And here we are :)
Lea: What inspires you to create magique?
Milou: Hôtel Magique gave me a platform to play around with my designs, exploring different materials, techniques while challenging myself to try out new things. And that's why I love collaborations too: I love the challenge of incorporating another designer's idea or a brand's identity into my work to find the perfect balance between the two, resulting in a new piece of art. 
Lea: How do you go about when creating magique?
Milou: When working on a collaboration I always start with a mood board. For example, the inspiration for our Swirls Scarf was the colour terracotta. So I created a little world on Pinterest with different types of rooms in which I would love to see this scarf framed. Then, I explored these rooms closely: what kind of furniture can I see? What type of plants? How does the pattern on the rug look like? Slowly, the artwork that would perfectly fit into this room started to shape in my head. And that's when I start drawing, playing around with artworks and typography, until the point a design feels right.
Lea: Tell us, what makes your day magique?
Milou: Bali is my adopted home. Living in nature without the rush of the city definitely makes my days magique: you wake up to a bright, colorful sunrise. Every morning, we take our dogs for a walk on the beach. Sometimes, we go for a dip in the ocean before I work from home where my view is filled with palm trees and the dogs playing.
Lea: What does sustainability mean to you and how important is it in your everyday life?
Milou: I have become even more aware of the importance of sustainability since living in Bali. Our neighbors still burn their trash and during the rainy season, the beaches and streams are filled with garbage which is as in your face as it gets on the importance of sustainability and how much we really need to change our way of working, shopping, living.
Lea: Any eco-friendly life hacks you could share with us?
Milou: There are so many but I think the most important thing is that we have to change our way of thinking. We have to become more aware of how lucky we are with this abundance of, well, everything. Including the abundance of sustainable options, delicious meat replacements or beautiful sustainable brands etc. Make less selfish choices and be more grateful.
Dromen in kleur' by the Dutch rapper Raw Roets which means 'dreaming in colors'. Actually, I have no idea how it sounds when you don't understand Dutch but this is the song I woke up to many mornings during this pandemic and it's gorgeous.
I am not much of a reader but I love beautiful photo books. At the moment my go-to would be the Bali version of the Louis Vuitton Fashion Eye travel book series, photographed by Quentin de Briey. And pre-pandemic I was reading The Monocle guide to Hotels, Inns and Hideaways since opening a hotel is on the making-dreams-come-true-list :)
My everyday breakfast in Bali:a dragonfruit smoothie bowl. Here is the recipe: mix big chunks of frozen bright pink dragonfruit, half of a frozen banana and a splash of almond or oat milk to a blender, top it up with whatever you like :) I love to add kiwi and roasted coconut and some granola or oats.

'The Ruffled Casita pillowcases and sheets are on top of my wishlist! And The Gerda Slip Dress - very Bali-proof. And I love The Johana Blouse, very French. Oh, and of course the scarfs from our collaborations - The Shell & The Swirls-scarf are my faves!'